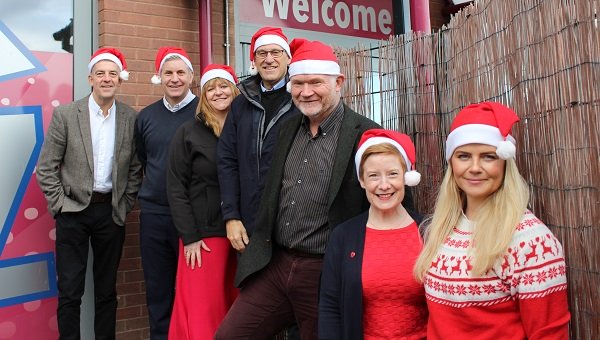 Carlisle Youth Zone Ambassadors are asking local businesses to follow their lead in donating sums of money to CYZ instead of delivering traditional Christmas cards and corporate gifts.
The Ambassadors' businesses (Cumberland, Baines Wilson, Dodd & Co, Liberty Work and Leisure, Thomas Graham and Cumbrian Properties) are each donating the money to the CYZ Christmas Campaign which would have been spent on buying and posting traditional cards and corporate gifts. The Ambassadors are also asking their own staff if they would like to donate to the cause by holding Christmas jumper days and similar.
The Ambassadors are asking other CYZ Patrons and other businesses to join the campaign by doing the same and donating to CYZ the money they would normally spend buying cards and corporate gifts and to also ask their clients and contacts to do the same.
The group has set a target of £5000 for the campaign and has raised over £1,500 already and hopes that other Carlisle and North Cumbria businesses will support the campaign.
Lynsey Buckle from CYZ said: "Donations in lieu of Christmas cards and corporate gifts will have a great effect on the Youth Zone. Over 1500 children use CYZ's facilities every week and over a quarter come from disadvantaged backgrounds. This additional revenue stream is incredibly helpful, especially at this time of year as funds can ensure that the children can be part of something great this Christmas"
The CYZ Business Ambassadors are also very pleased to welcome Rachael Hogarth from Cumbrian Properties as an Ambassador.
John Wilson from Baines Wilson, who chairs the CYZ Business Ambassadors' group, said: "We are delighted to welcome Rachael as an Ambassador. Rachael brings a breath of fresh air to the Ambassador group as she is from a younger business generation than the older fogeys like me in the group and has already introduced new Patrons to CYZ.
Patron fees start from as little as £50 per month so are a commitment affordable to nearly all businesses. Please think about signing up if you are not a Patron already and if you would like to explore then please contact us".
Any businesses interested in joining the CYZ Christmas Campaign or who would like more information on how to become a Patron should contact Lynsey at Carlisle Youth Zone – Lynsey.Buckle@carlisleyouthzone.org / 01228 516280