What's Inclusion club about?
Inclusion Club is for anyone  (aged 8-25) who may need additional support. We are very proud of the fact a number of our inclusion members access our other Clubs.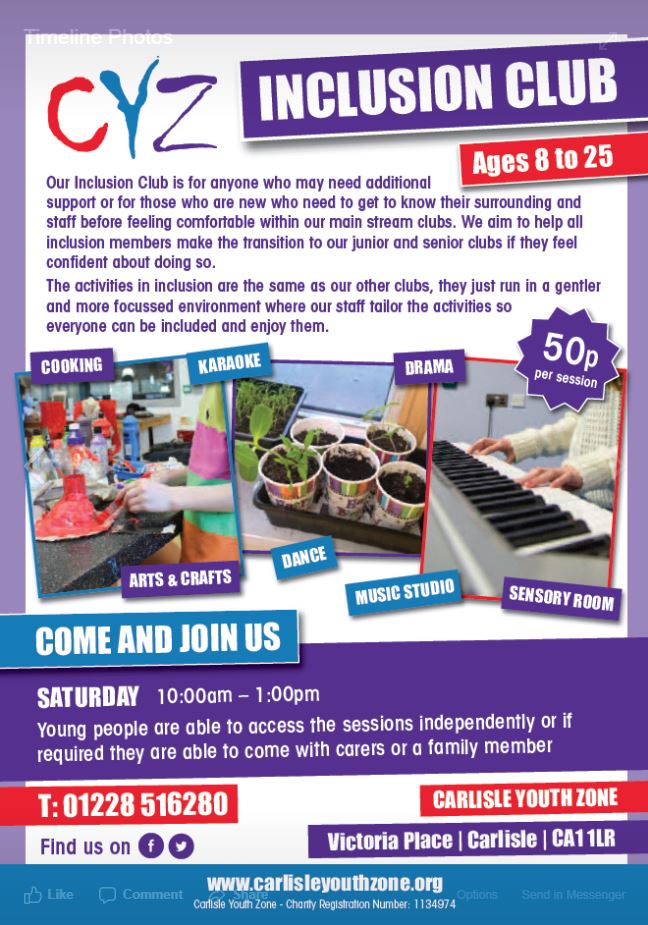 The activities are the same, they just run in a slightly gentler and more focussed environment. Staff and volunteers are on hand to tailor the activities so everyone can enjoy coming to CYZ.
Anyone wishing to find our more information or if this Club might be suitable for some you know – please get in touch with Reception on 01228 516280.
CYZ runs our Inclusion Club alongside the mainstream offer, with activities adapted and support available for young people with additional needs or a disability.
We have a wide range of young people accessing the sessions with many different needs, mild learning difficulties to more complex needs such as visual impairment and physical disabilities. Young people are given the opportunity to access a range of activities including sports, karaoke, arts & crafts, cooking, music, gaming and much more.
Young people are able to access the sessions independently or if required they are able to come with carers or a family member.
CYZ offers a range of accessible spaces including a sensory room, sports hall and climbing wall,  accessible gym, dance studio, arts and crafts area, boxing studio, outdoor kick pitch and a large recreational area.
All activities provided can be adapted to suit a range of abilities.
For more information please call 01228 516280 and speak to reception staff.