In honour of the King's Coronation, members of the Carlisle Youth Zone Social Action Group are calling on members of the community and local businesses to plant sunflower seeds and make a pledge about how they will protect the environment.
The project, known as Off the Grid is made up of six young CYZ members and encourages people to save money, reduce how much energy they use and look at ways to protect the planet. Funded by Electricity North West, the group have allocated their pitch award of £500 to bring the Plant & Pledge project to life.
Young people would like you to join us in planting sunflowers and make a pledge about how you can help protect the environment for young people in Carlisle, small ideas make a big difference, for example: "I'll pledge to buy a reusable bottle and take it with me on days out".
Victoria Aspinall, a CYZ Team Leader comments "Our hope is that by encouraging the wider community to plant and pledge sunflowers reinforces the message that we need to protect our environment and its future, whilst also experiencing what nature has to offer".
Activities at the centre throughout April have included the planting of seeds and pledges from 100's of young people who attend each week.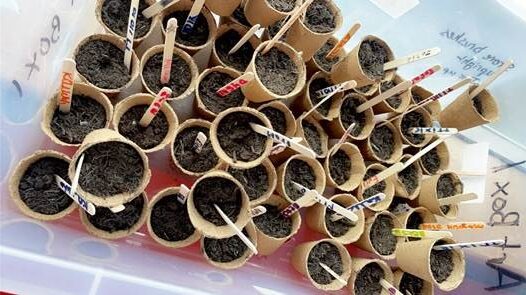 Successful sunflowers are to be planted at Susan's Farm, Houghton during a special event taking place on 31st May 2023.
Carlisle Youth Zone previously received one of the 350 trees that made up the spectacular 21-metre 'Tree of Trees' sculpture outside Buckingham Palace that was the centrepiece of the late Queen's Platinum Jubilee weekend celebrations in June 2022. CYZ members joined Tess Hart MBE and volunteers from Susan's Farm at a celebratory tree planting event. The tree is located close to a public footpath near Tarraby Wood, Houghton.
Caroline Taylor-Beswick, Chief Executive at CYZ comments "Being selected to receive such a special and important tree conveys our wider communities' commitment to our youngest citizens, and our shared belief alongside CYZ that their future and potential is bright".
The Plant & Pledge project is the second collaboration between Carlisle Youth Zone, Susan's Farm and Cumbria Wildlife Trust. The sunflowers are to be planted by the Education Centre on Susan's Farm, this strengthens the Youth Zones connection more generally with fellow Charity Susan's Farm, alongside them hosting our Tree of Trees.
Special packs of sunflower seeds will be available to collect for free from Carlisle Youth Zone throughout May. People are encouraged to share their sunflowers across social media using the #CYZplantandpledge #CYZSunflowers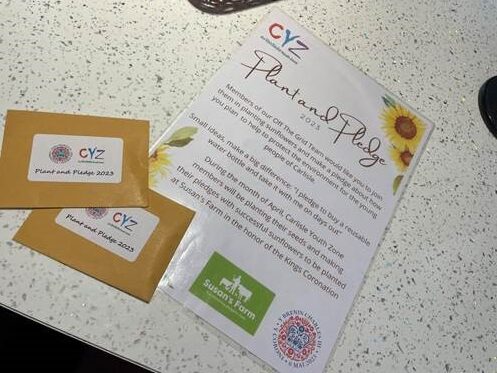 CYZ is a charity which opened in 2011 with the objective of supporting young people's personal, social and educational development. They do this by giving young people from diverse
backgrounds access to incredible facilities 6 nights a week, in a vibrant, purpose-built space packed with engaging activities. They have the opportunity to make friends, develop new skills,
unlock their potential and have fun. Since opening, the Youth Zone has helped 15,000 young people along the way to realising their full potential.  Find out more about CYZ on their website https://www.carlisleyouthzone.org/ or call 01228 516280.