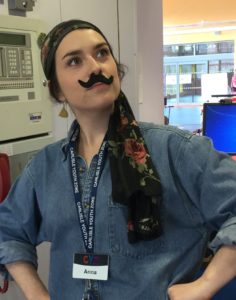 Introducing Anna Smith, who has been our Inclusion Co-Ordinator since September 2018! She is creative and positive and she has a vision and that's why we love her!
We asked Anna about what it's like to work at CYZ…
I think I started as a volunteer in November 2017, but I've been a staff member since March 2018.
I love being surrounded by bright, inspiring people! I just think everyone involved here is fantastic, from young people to staff!
…and about her hobbies and childhood…
I like to call myself a chronic dabbler, because I do a bit of this and a bit of that, but I never really settle on any one project for long. I like crochet, playing the banjo, embroidery, journaling, gardening.
My family and I used to go camping every Summer, and we always had so much fun.
I'm from the USA, so there were so many amazing places around us to visit. I still love camping, you might see me driving my little white van around which I use as a mini camper whenever I get the chance!