What's Junior club about?
Anyone aged between 7 and 12 years old are welcome at Junior Club (or JC Club as we like to call it!). Check out the calendar to see when the next session is.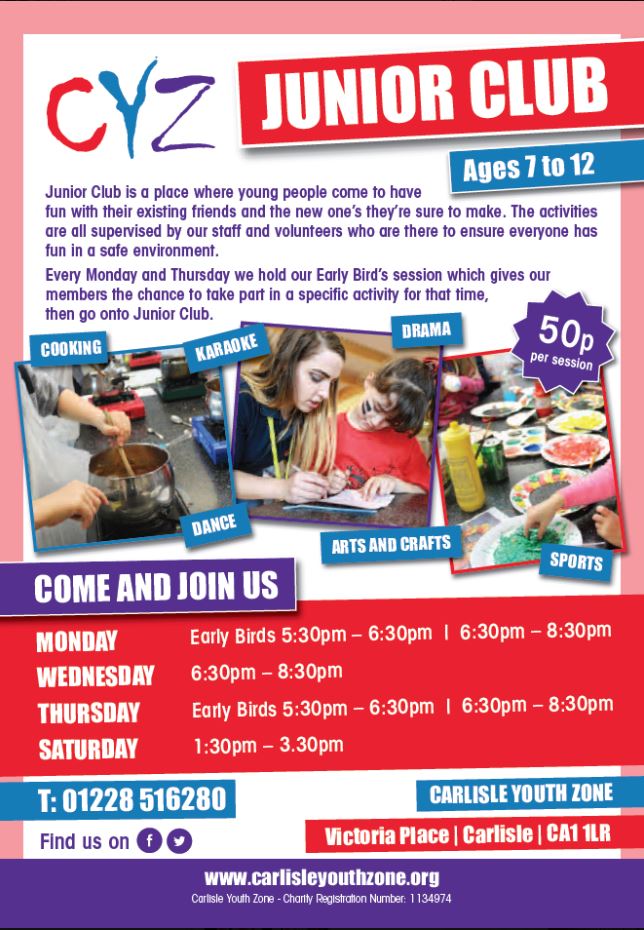 The one aim of JC is Club is to have fun with the staff, volunteers, your existing friends the new one's you're sure to make.
The Carlisle Youth Zone Junior Club is for anyone aged between 7 and 12 years old who wants to have a bit of fun.
Each night we have planned activities on – but we also like to go with the flow on the night – ensuring you have the maximum fun you can!
A couple of our most popular activities include our arts and crafts area, karaoke, our dance and drama activities, our pool tables, sports tournaments and let's not forget our girly room (enter at your own risk – you will receive nails/ hair/ make up treatment in this room!)
For more information on JC Club – call our reception staff on 01228 516280
Early Birds
Every Monday and Thursday we hold our Early Bird's session which gives our members the chance to take part in a specific activity for that time, then go onto JC Club. Our early birds change every few weeks.

Parents/ Carers
Please note the following information:
7 year olds can only attend CYZ (no matter what session they attend) for a maximum time of 2 hours. You will need to complete your membership in person at Reception.

Members must be collected by a parent/ carer– or we must have a signed permission letter to allow them to leave on their own

You must keep us up to date with any changes, such as medical conditions, emergency contacts, address details etc.

We also offer a number of other services, such as a mentoring service, help with membership fees, we can also help with meals& behavior issues.  We are here to help and support young people and their families where ever we can.  For further information on any of this please call matt.williams@carlisleyouthzone.org